"One of the world's most influential economists... on a mission to save capitalism from itself."
Quartz
Academic
Advisor
Communicator
Buy Mariana's new book
"The Big Con: How the Consulting Industry Weakens our Businesses,
Infantilizes our Governments and Warps our Economies"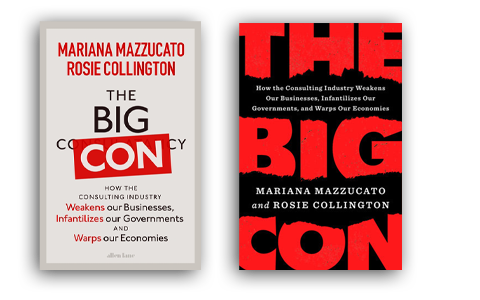 Academic
Mariana Mazzucato is Professor in the Economics of Innovation and Public Value at University College London where she is the founding director of the UCL Institute for Innovation and Public Purpose. Her work challenges orthodox thinking about the role of the state and the private sector in driving innovation; how economic value is created, measured and shared; and how market-shaping policy can be designed in a 'mission oriented way' to solve the grand challenges facing humanity. She is winner of international prizes including the 2020 John von Neumann Award and the 2018 Leontief Prize for Advancing the Frontiers of Economic Thought.
History tells us that innovation is an outcome of a massive collective effort – not just from a narrow group of young white men in California. If we want to solve the world's biggest problems, we better understand that.
Mariana Mazzucato, Wired interview
The Big Con
"The Big Con is not a crime. It's a confidence trick. Consultancies know less than they claim, cost more than they seem to, and prevent the public sector from building in-house capabilities." The Financial Times
Mission Economy
"She offers something both broad and scarce: a compelling new story about how to create a desirable future." New York Times
The Entrepreneurial State
"One of the most incisive economic books in years." New York Review of Books
Advisor
Mariana Mazzucato's work on the relationship between innovation and the direction of economic growth is having a global impact. Over the last two years her work has influenced a new mission-oriented approach to EU Innovation policy; redesigned a 'challenge-oriented' UK industrial policy; and helped create a new National Investment bank in Scotland. She acts as an advisor to a wide range of governments and organisations around the world, including the Italian Prime Minister, the President of South Africa, the Vatican and the World Economic Forum.
Professor Mazzucato has stormed the global economic debate as a fresh, clear and rigorous voice, unveiling the State's role not as simply correcting 'market failures' but as a powerful creator of new markets.
Alicia Bárcena, Executive Secretary, UN Economic Commission for Latin America and the Caribbean
Communicator
Professor Mazzucato regularly gives talks to public and private sector organisations around the world on the economics of growth and innovation. She has spoken to governments, public sector agencies, business and private sector organisations in countries including the USA, UK, Italy, Sweden, Norway, Denmark, Brazil, Singapore, and China about the role of the state in modern capitalism and how to achieve smart, inclusive and sustainable economic growth.